The Faculty of Engineering offers a four-year full-time undergraduate programme leading to the degree of Bachelor of the Science of Engineering Honours (BSc Eng Hons). Admission to the undergraduate programme in the Faculty of Engineering is subject to government policy on university admissions. The minimum requirements are passes in Combined Mathematics, Physics and Chemistry at the GCE (Advanced Level) Examination.

The four-year full-time BSc Eng Hons degree programme at the Faculty of Engineering comprises the General Programme during the first year and Specialization Programme in the remaining three years. A student can pursue studies in one of the following fields of specialization:
Chemical and Process Engineering
Civil Engineering
Computer Engineering
Electrical and Electronic Engineering
Manufacturing and Industrial Engineering
Mechanical Engineering
The structure of the undergraduate degree programme at the Faculty of Engineering is illustrated below.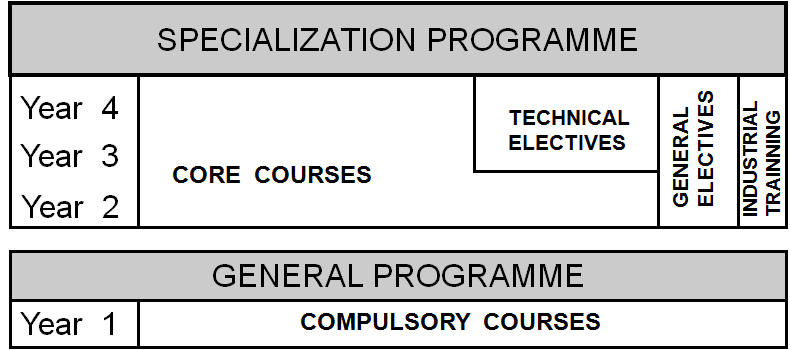 Each academic semester is normally made up of 15 weeks of teaching, a recess week and a week-long end-of-semester examination. The evaluation of the performance of a student in each course is carried out through continuous assessments and end-of-semester examination. The medium of instruction at the Faculty of Engineering is English.
GENERAL PROGRAMME IN ENGINEERING
The General Programme in Engineering, which is conducted in the first academic year, is a common
programme for all the students at the Faculty of Engineering. There are 12 courses to be completed under the General Programme, which consists of two semesters. The twelve courses are given in Table below.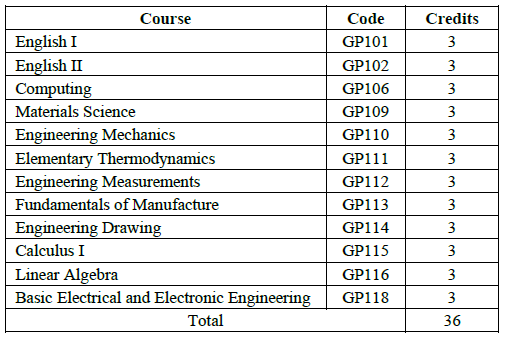 A student should have successfully or provisionally completed the General Programme in Engineering and should have got selected to a field of specialization as specified in Rules and Regulations given in Annexure I for him/her to continue studies by registering for the Specialization Programme in Engineering.