The annual poster presentation of the Department of Civil Engineering was held at the Faculty of Engineering on 20th August, 2020 with the participation of the department's academic staff and invited guests from the faculty as well as the Civil Engineering industry. The opening ceremony was held at the EOE Pereira Theater of the Faculty which also symbolized the launching of the proceedings of the undergraduate research symposium held in 2018. The event provided a valuable opportunity for the undergraduate students (E/14 batch) who shared the outcomes of their final-year research with the participants and received useful insights to direct their future research efforts towards industrial applications. This annual landmark event of the Department is co-organized by the Civil Engineering Society (CES) of the Department and is sponsored by the Tokyo Cement Group.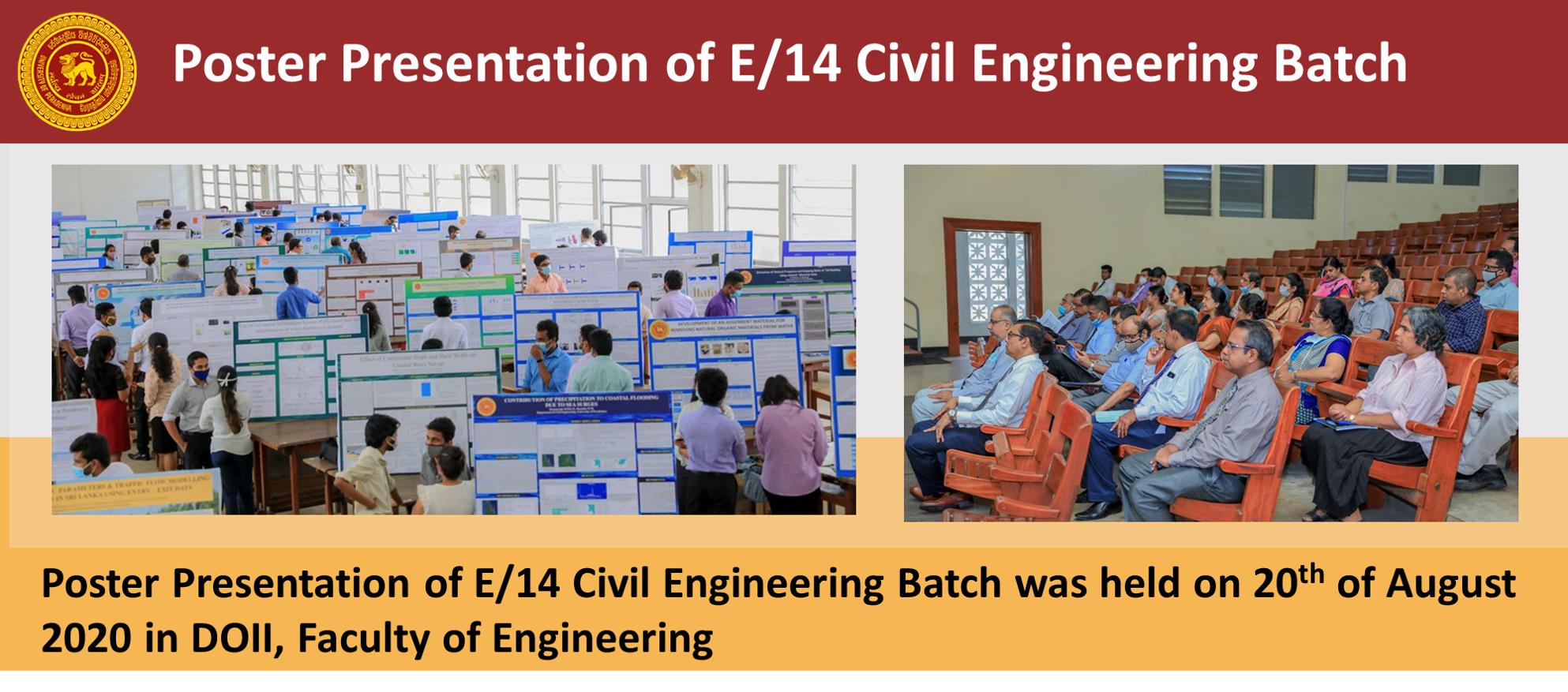 Prof. Ranjith Dissanayake and the team received the research grant for "Strengthening University-Enterprise Collaboration for Resilient Communities in Asia (SECRA)" from the European Commission through the Erasmus+ program Capacity Building in Higher Education
The overarching aim of SECRA is to contribute to more resilient communities in Asia through institutionalized, systematic, monitored, innovative, and inclusive university–enterprise collaboration (UEC) in climate change action and disaster resilience (DR). The main problem targeted by SECRA is the ad hoc, episodic quality of UEC in the field of DR in many Asian countries, which are disproportionately affected by consequences of climate change. We are aware that there is no simple answer to the wickedness of climate change consequences or resilience; we are claiming, however, that facilitating systematic, institutionalized, inclusive (in terms of gender parity) and monitored UEC is part of a solution. High quality, entrepreneurial collaborative activities between universities and industry facilitate the exchange of scientific knowledge, practical skills and good practices, which otherwise remain siloed.
SECRA deals with the problem at hand in a sequential fashion. The project's contribution to more resilient communities is through increasing the capacity of Higher Education Institutions (HEIs) to initiate, manage, maintain, and benefit from UEC. The institutionalization and systematization of UEC are addressed in WPs 1, 2, and 3, innovation in WP4, and monitoring in WP5. SECRA will produce, inter alia, material towards eventual change of policies governing collaborative activities in partner countries; a relation framework to understand UEC; an online platform for a Community of Practice (CoP) consisting of HEIs, public sector and enterprise actors; a corporate start-up lab and networking activities in partner HEIs, and a monitoring tool to assess the quality of UEC that can be broadly contextualized for use in HEIs worldwide.
(09/08/2020)
Dr. Chamindu Deepagoda awarded an international research grant from Asia Pacific Network (APN) to investigate Greenhouse Gas Emissions from Paddy Ecosystems. This is a project involving multiple countries (Sri Lanka, India, Philippines, Japan, New Zealand, Denmark, USA) which is planned to be a two-year project with overall research funding of 71,000 USD.
(01/08/2020)